Company with a Conscience: Community Connections
Liepold Design Group embodies the "Design Impacts Lives" philosophy by organizing annual pro bono interior design projects benefiting non-profit organizations.
Past projects – the DreamCatcher Program sheltering women, a local elementary school faculty lounge, the Polaris Project serving human trafficking survivors — demonstrate how interior design improves the quality of the human experience. Julie Liepold is honored to have received awards for her volunteer leadership from the Junior League and the American Society of Interior Designers.
The Valerie Fund Designer Showhouse – Grace's House
Liepold Design Group envisioned "Grace's Green Garden Sunroom" as an indoor wellness garden to promote healing and positive outcomes for Grace and all The Valerie Fund children with cancer and blood disorders.
Grace's favorite color green roots the core palette to create a space that enlivens growth and renewal.
Overall, "Grace's Green Garden Sunroom" encourages an equilibrium of mind, body, and spirit to benefit The Valerie Fund's Green Light Initiative, a $5,000,000 Capital Campaign, to extend next-generation care to thousands of children fighting cancer.
Grace's House will be open to the public April 25 through May 19, 2019. For tickets, visit Grace's House Tickets.
Grace's House will be featured in Design NJ's April/May 2019 print edition.
The DreamCatcher Program for the Women's Center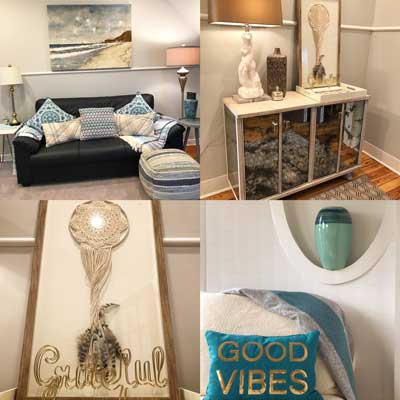 Dawne Lomangino-DiMauro, the head of DreamCatchers, commented: "From our first meeting until now, Julie Liepold has been a true inspiration and amazing person to be involved with. The work and passion she put into our transformation has created a 'sanctuary' for our clients and our staff. The creation exceeded all of our expectations. Clients come in and feel so comfortable, peaceful and safe. Truly amazing!"
Liepold Design Group completed an ambitious pro bono project to furnish the newly opened DreamCatchers Program office in Essex County for The Women's Center (TWC) and the human trafficking survivors they serve.
The pro bono project was completed without cost to the non-profit organization. Liepold Design Group delivered over $10,000 in furniture and furnishings donations for The Women's Center, a statewide service provider of human trafficking services and a consciousness-raising group closely affiliated with the National Organization for Women (NOW).
Elementary School Faculty Lounge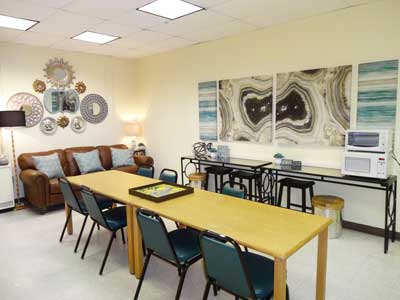 Teachers transform the lives of their students every day. In recognition of their contributions Liepold Design Group donated interior design services and furniture to transform the faculty lounge at a local elementary school into a more welcoming and functional space to relax and collaborate. Liepold Design Group worked with design industry partners and local trades people to address recent fire code citations while creating an inviting and productive space for the faculty. The project was completed without cost to the school.
Polaris Project New Jersey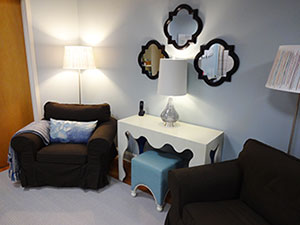 Kaitlyn Keisel, Director of Polaris Project New Jersey, thanked Liepold Design Group for "transforming our office into a beautiful healing sanctuary… so the survivors we serve can create a home base to redefine their lives."
Liepold Design Group, together with design industry partners, donated and delivered over $15,000 of renovations to the Polaris Project New Jersey offices and the human trafficking survivors they serve. The metamorphosis of the offices into a warm and welcoming space for therapy, counseling and skills training for victims of human trafficking is thanks to the generous donations of furniture and furnishings made by Liepold Design Group's vendors and clients. The project was completed without cost to the non-profit organization.
Interior designers are problem solvers. Often overlooked in the service offerings of a designer is how to help clients deal with their existing furniture that will be replaced. Designers also work with vendors on countless items damaged in delivery. Liepold Design Group wants the design industry to cease looking at these loose items as a necessary nuisance and instead envision them as an opportunity to create a meaningful impact.
Liepold Design Group encourages their vendors and clients to donate their no longer needed items to give their old furniture new life. These donations were essential for the Polaris Project renovation and other pro bono projects completed by Liepold Design Group.